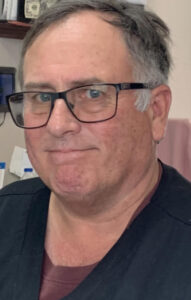 Kevin was born in Billings MT into a ranching family. During his childhood His dad had ranches in both Luther, MT by Red lodge and his grandfathers homesteaded place in Frannie, WY. Kevin early on working on the ranch grew to love horses and cattle especially. By middle school he had set his sights on veterinary school. He attended both MSU Bozeman and then Colorado state university where he achieved his veterinary degree in 1984. While attending his last year of veterinary school he relaxed his studies just enough to discover there was more to life than studying and began seeing one of the veterinary schools 3 radiologic technologists (Xray tech), later to become his partner in crime and all things veterinary for the last 37 yrs (Debbie) Kevin moved to his first job in O'Neill, NE a mixed large and small animal practice upon graduation.
A year later Deb and Kevin decided the long distance relationship was not to their liking so they got quickly married Memorial Day weekend so as not to take too much time off during calving season. Yes, cows are that important!
After a couple of years in NE getting the "newbie vet smell" off him Kevin was informed that a vet practice in Columbus MT was for sale. The owner had remembered his interest in vet medicine and looked him up.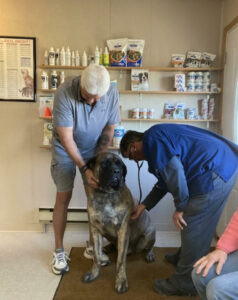 So back to his dream of returning to MT. Kevin's love of all animals has shone through all the years and for 35 years he and Deb have dedicated themselves to the practice of affordable, common sense caring for owners as well as patients. According to Deb as well as his large clientele you couldn't ask for a more practical, compassionate, good guy doc. It hasn't been easy, self employment never is, but in addition to working together in a one doctor practice the Homewood's have managed to raise 3 wonderful individuals, Kayla (Cole) Maki and twin sons Nick and Dan. Kayla especially has inherited her father's love of animals. Kevin has an affection for cats beyond the norm. Cows a close second.
When it comes to acquiring his own pets at times Deb has to be the voice of reason! Kevin never met a stray animal he won't capture spay or neuter vaccinate and feed! Her collection of miniature aussies while raising them for 16 yrs has been a constant source of enjoyment for the family. She gets a huge veterinary discount. Getting a new shoulder replacement this winter has slowed him down in the calving arena this spring but his many loyal clients are anxious to have him back and the goal is to retire at 70 well maybe go part time!!!! Kevin truly is one of a kind in a dying breed of veterinary medicine.