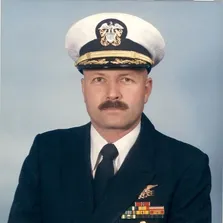 A fifth generation native of Montana, Gary Stubblefield graduated in 1965 from high school in Helena, Montana.  He attended NROTC at the University of Idaho in Moscow, Idaho and was commissioned an Ensign in the United States Navy in 1969. Commander Stubblefield holds a Bachelor of Science degree in Botany from the University of Idaho and a Masters degree in Political Science from the Naval Postgraduate School, Monterey, California. Mr. Stubblefield was inducted into the University of Idaho Alumni Hall of Fame in May 2011.
Commander Stubblefield's distinguished 20 plus year Navy Career began in 1969 when he was accepted to attend the
arduous UDT/SEAL training. Upon graduating from BUDS Class 54, Gary was assigned to SEAL Team ONE where he served as platoon leader and department head including a deployment to Vietnam. Throughout his military career, Gary Stubblefield served in numerous SEAL billets to include Research, Development, Test and Evaluation Officer, advisor to the South Korean SEALs, and also a special inter-agency assignment in support of national security interests.  His Navy career included experiences in both anti-terrorism activities and in underwater operations to include operating small wet submersibles, development of special diving and ordnance equipment, and submarine lock-in/lock-out operations. Commander Stubblefield conducted Combat Operations in Vietnam, Central America and the Northern Persian Gulf. His final three tours of duty were Commanding Officer of SEAL Team THREE, Commander Naval Special Warfare Task Unit Pacific, and Commander Naval Special Boat Squadron ONE. His military decorations include the Bronze Star Medal with combat "V", four Meritorious Service Medals, and the Navy Commendation Medal as well as numerous service medals.
Post Navy, Mr. Stubblefield has become one of the world's leading experts in deterring maritime piracy with specialties in international crisis response management and threat analysis. Since 1994 Gary has co-authored two non-fiction books dealing with ambushes, KILLING ZONE and AMBUSH which have been used in tactical training courses. He thereafter published another manuscript focusing on Naval Special Warfare matters, Inside the U.S. Navy SEALs. He has also completed co-authoring a manual titled What Your Travel Agent Won't Tell You detailing security considerations when traveling, and another non-fiction manuscript on piracy at sea, Maritime Terror with a recent revision. Mr. Stubblefield, in addition to being a published author, has also been featured on numerous national main stream television and radio broadcasts as an expert in anti- and counter-terrorism and maritime piracy. These news media exposures have included NBC, ABC, and FCN. He has testified before Congress on U.S. border security.
At the turn of the 21st century, he served for two years as President of GlobalOptions, a crisis management firm headquartered in Washington, DC. In the mid-1990s he founded Vantage Systems Incorporated, a security management firm. Since 2001, he helped establish and has been assisting the U.S. Department of Energy's Global Threat Reduction Initiative (GTRI) to combat Radiological Dispersal Devices (RDDs) more commonly termed "radioactive dirty bombs." He travels worldwide initiating security enhancements to safeguard radioactive materials that are attractive to terrorists. His trips have allowed him to initiate work in nearly two dozen regions including the former Soviet Union, Central Asia, South East Asia, and Africa. He has conducted vulnerability assessments of literally hundreds of radioactive and nuclear storage facilities in order to provide security for these materials. One of his areas of expertise has been in determining what technologies will be most effective in providing security enhancements. His work has resulted in implementing physical security upgrades to over 250 facilities in these nations.
His recent contracts have included working with development of port and harbor defenses, anti-piracy, security of radiological materials, and work with private corporate security. His experience spans four decades of in-the-field efforts against terrorism, criminal activities, counter insurgency, and all facets of security management. Mr. Stubblefield currently resides in Missoula, Montana with his wife, Connie.