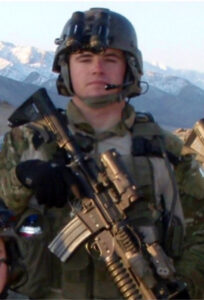 3 times deployed to Afghanistan
Awarded the Army Commendation Medal, Army Achievement Medal, and Presidential Unit Citation Award
Earned the Combat Infantryman Badge and Expert Infantryman Badge
He knew what he faced when enlisting in 2009 and yet he earned his Ranger Tab and fought at the tip of America's spear.
Following the Army, his own transition challenges, and even with a full time job with Riverstone Health, he vowed to serve his fellow veterans by establishing Veterans Navigation Network to assist with resource navigation and peer mentoring for those brothers and sisters in arms needing guidance.
Service is a defining characteristic of Blake. Leadership, compassion, integrity, hard work also describe him, but service is key. First through his service to America, putting it all on the line in combat, second, his service to the larger community through his work as Riverstone Health's Quality Improvement Special Project Manager, and third, his service to the veteran community.