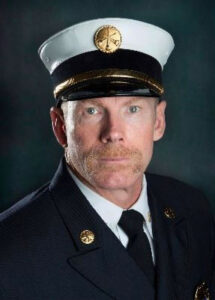 Battalion Chief Darrek Mitchell was hired by the Billings Fire Department in 1998.  He has worked his way through the ranks, starting as a Fire Fighter,promoting up to Engineer, and then Captain by 2014.  In 2018, Darrek was promoted to Battalion ChiefDarrek decided to face his mental health issues in 2010 and vowed not only to work on himself, but to also be an advocate for his brother and sister fire fighters.  Darrek set out to educate himself in the various disciplines of critical incident stress management, peer to peer support and resiliency and wanted to implement these tools to help his peers.
Darrek has spent countless hours listening, learning, and helping people break the stigma that it is ok to ask for help and that they are not alone in their struggles.  "I need help" is a hard thing to say and it's ok to not be ok.  Darrek's personal goal is not only the mental well-being of active-duty fire fighters, but also those who have retired.  The most satisfying thing he can do is help a fellow human being that may be suffering in silence. "I want people to know that their story matters.  That they matter and that people care and there are people that can help," Darrek says.
Friends were there in his darkest hour and were key in getting him the help he needed.  Darrek says, "I never want anyone to feel like they are not valued.  Through my journey I'm grateful and humbled to be trusted again.  I've been surrounded by many mentors – family, friends, co-workers, teachers, and many others – that have been instrumental to my successes.  I consider myself fortunate to be a part of a team willing to help others in their time of need."
Darrek has implemented Billings' Peer to Peer Support Specialist Team and was appointed as the steering committee chair of the Big Sky Critical Incident Stress Management Team.  As the Mental Health Coordinator for Montana Professional Fire Fighters, he and his team have also been a big part of utilizing a grant for first responders to receive peer support and resiliency training.  Darrek's work is not limited to the firefighting family – he is available to anyone that needs, wants, or is ready for help.
Mental Health, Peer Support, and CISM
• Big Sky CISM Steering Committee Chair – 2022
• Montana Professional Fire Fighters Mental Health Coordinator – 2021
• Billings Fire Department and Local 0521 Peer to Peer Support Team Lead – 2018
• Advanced Group Crisis Intervention; February 2018
• Critical Incident Stress Management Training; Fall 2015; Member of Big Sky CISM
Mental Health Certifications and Trainings
• Monthly Behavioral Health Trainings – 2020 to Present
• IAFF Substance Abuse Webinar – 2022
• IAFF Resiliency Training – 2021
• Peer to Peer; Great Falls – 2018
• Resiliency Training – Glen Sheraldi; May 2017
FDIC International – Indianapolis, IN; April 2018
• Firefighter Behavioral /Emotional Health – Dan DeGryse, BC, Chicago, IL
• Turn PTSD into Post-Traumatic Growth; It Will Change Your Life – David Griffin, Captain, Charleston, SC
• Developing Post Traumatic Growth – Jeremy Herd, EMS Captain, Palm Beach County